What is SEO?
If you ever wondered what SEO is then read on.
If you are going to have a web site then you need to understand what SEO stands for and how to apply it to your web pages. SEO is a crucial part of having a successful web presence. Now before I proceed I should add a little note that SEO is a very in-depth topic which you could write a whole big book on. This page is just giving you the basic principle of what SEO is. For a more in-depth document on SEO, Google have kindly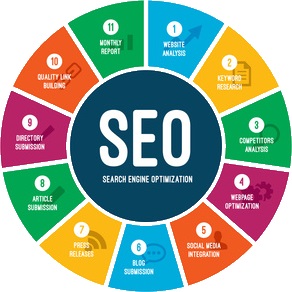 provided one which can be read or downloaded here.
SEO
SEO stands for search engine optimisation. In layman's terms it means to use tactics and strategies to increase your popularity with the search engines.
Search Engines
When you enter a word or phrase into the browser of your computer a search engine takes that phrase and tries to match it as closely as possible with web pages they have on file. There are several search engines but some of the most often used are: Google, Bing, AOL, and Yahoo.
When you register your domain name and get a host server to host your web pages nd your site goes live then eventually your site will be crawled and indexed by the search engines. After that there are different things you can do to improve the rankings you have with the search engines.
Search Engine Ranking
When you type a word or phrase into your browser the search engine looks for the closest possible match. They look for pages that contain that word or phrase, or they look for pages that have a relevance to that word or phrase.
The page the search engine thinks matches what you have searched for the most accurately according to its algorithm is listed first in the list of possible websites that will be listed. You want your web pages to be listed in the top 10 web pages that are suggested by the search engine, and ultimately in first position.
To make the top 10 list you have to convince the search engine that your pages are most likely going to have pertinent information about a particular subject. For instance: if your web page is designed to sell rocking chairs you would want the search engine to suggest you in the top ten results every time that someone searches the word furniture, rocking chair, rocking furniture, wooden furniture, and so on.
Search engine optimisation is the act of doing things that will make those search engines think of you first. You have to be wary of how you proceed with SEO however as certain search engines like Google could penalise your website if the algorithm thinks you are "gaming the system".
DISCLAIMER – SEO is very good for help rankings but can be very bad if done incorrectly, in fact your website could disappear completely if it is penalised and de-indexed. Some of the methods mentioned below are not recommended, but just an example of what kinds of SEO some people perform. Using any of these methods below is done so at your own risk.
Establishing back links to relevant web pages. But what are backlinks? As an example, when a person is reading a page on a website and they want to find a product to buy, or they want more information on the subject they were reading about they will be inclined to click on links that would take them to other websites with relevant information. Google basically says that building backlinks purposefully is against their rules, and backlinks should come only because other webmasters genuinely want to share your quality content. However virtually everybody builds links one way or another. If you do build links then make certain the sites are relevant or you could lose search engine rankings.
Join discussion forums that talk about things relevant to your site and leave your URL (if allowed) in the comments or signature area when you join the discussions. This can lead to you being penalised if you build too many too quickly.
Write relevant articles and post them on your site. You want to add articles that are fresh and quite often so the search engines see the new content. This is suggested as somewhat of a myth and it's really backlinks that count.
Search engine optimisation is a marketing technique to draw attention to your web presence. All search engines send spiders out to crawl over the available web pages of your website to various reasons such as to determine what the page is about, and which ones contain active links to other pages or other websites. The spiders report back to the search engines about what they find on your page and then the search engine decides if you should move up in ranking or down in ranking.
Here's a nicle short video that puts SEO into a nutshell.
.
SEO is a tool to help you prosper in your online endeavours, but a tool that should be used with extreme caution.